Every day, material goods are transported across Canada from different areas of the world. Various transportation trailers are needed to effectively transport these goods depending on the type and volume of material. 
There are many types of transportation methods available today, including air and sea, to meet consumer demands. In this article specifically, we detail some of the most common and versatile trailers that effectively deliver a variety of goods.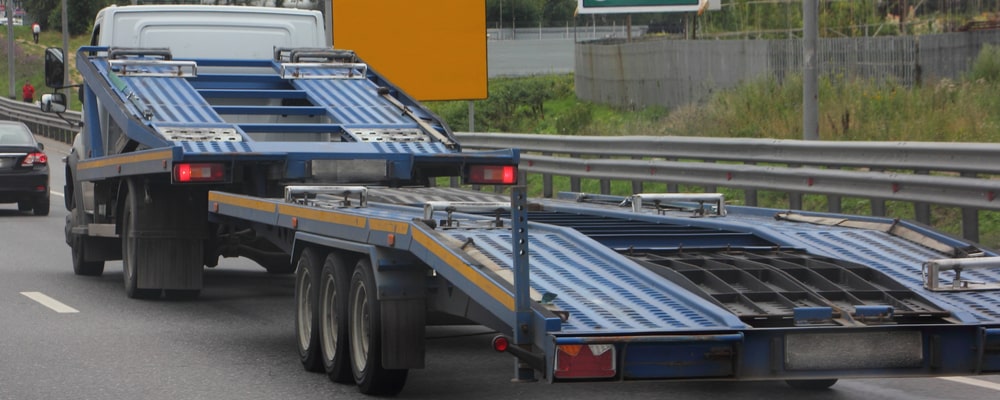 Flat deck trucks
Flat deck transportation is one of the most common methods used to move bulk, heavy, or large pieces of equipment. As the name suggests, this transportation method includes a flatbed that bows along its length to support heavy loads. Equipment is secured with strains, chains, and other powerful bindings for safe transportation. 
Standard flat decks also referred to as flatbeds, allow for quick and easy loading of goods that are not vulnerable to rain or snow, such as building and construction materials. Some companies offer tarps to prevent or limit the exposure of moisture and dirt to the equipment. 
Some materials that are transported by flat deck trucks are:
Lumber

Raw materials

Formed concrete

Vehicles
Step-deck trucks
Step decks are designed to carry taller loads or goods that require additional height clearance. Step-deck trucks have the same application as flat deck transportation; the difference being that there are two different beds on the trailer, the upper-deck and the lower-deck. 
The upper deck is at the same 4'8" height from the ground as a standard flatbed trailer, while the lower deck is 3'3" from the ground. Step decks are typically used to transport:
Tractors

Machinery

Agriculture equipment

Excavators
Low bed trucks
Low bed trucks, commonly referred to as lowboys, can legally carry loads of up to 12ft tall. The top deck is only 18" from the ground and is used to haul heavy equipment such as:
Bulldozers

Tractors

Oilfield equipment

Industrial equipment
Pneumatic trailer
A pneumatic trailer is a metal cylinder with cone-shaped hoppers at the bottom and openings at the top and back of the tank. Each hopper has a valve that opens up into a pipe that runs below the trailer. During shipping, these valves are closed and then opened when it comes time to unload. The products run out of the hopper and through the outbound pipe.
This type of transportation is typically known as dry bulk trucking for fine materials such as:
Sand

Cement

Dry chemicals

Animal feed

Dry foods
Final thoughts
The means of transportation is not limited to the above methods. In any case, the safe transportation of equipment, material, and other goods requires industry expertise that meets strict laws and regulations.